Ago
12
2014
01:09
"The true power is within you"
The new production of Michael Bay Ninja Turtles, brings us new, bigger turtles, with different faces, more urban, but that preserve the humor of their predecessors from 1984, in an entertaining film especially for the youngest, full of many funny scenes, with allusions to movies and well-known characters, action and animation with CGI. The film was one of the biggest releases this week, grossing $ 64 million in one weekend and $ 25 million on opening day.
https://www.youtube.com/watch?v=5e7e8Z-X9LE
The story preserves the plot of the original series: four brothers, four turtles, four young men, four experts in the art of stealth, infiltrating hostile environments, completing a mission and leaving unseen. This is how the film begins, with a robbery that is thwarted by some mysterious and dark characters who, when fulfilling their task, only leave a symbol as a sign of
that they were there, that as vigilantes at night they arrested the criminals. A young journalist wanting to do more serious work than presenting entertaining stories follows their trail.
Some changes in history
The reporter April O'Neil She meets the turtles and the Splinter rat as a child and is responsible for making them love pizza. In the original story she meets them later, in fact, the turtles spend it saving her, while investigating the crime wave in New York.
The Splinter rat in the original story was the pet of a great master expert in the art of Ninjutsu, who before mutating learns all the movements and blows of his master Hamato Yoshi. In the television series Splinter is the reincarnation of Hamato, and here in the film he learns the millennial martial art from a book (from a book? Really?), As part of film fantasy, something hard to believe Well, I have never met the first teacher to learn from a book or from YouTube.
Destroyer, he is the enemy of the turtles, in the original characters he is another master of Ninjutsu, leader of the Foot clan. He has clawed gloves and his armor is full of sharp objects. In this adaptation he uses an armor that, like a Transformer (coincidence?), Swords and knives come out from all sides.
The turtles themselves have not changed much, they are still named after the most important painters of the Renaissance: Leonardo, Raphael, Donatello and Miguel Angel. They put glasses on Donatello this time, they do not explain why, but surely it is to give him a more geek air and that he is easily identified by new audiences.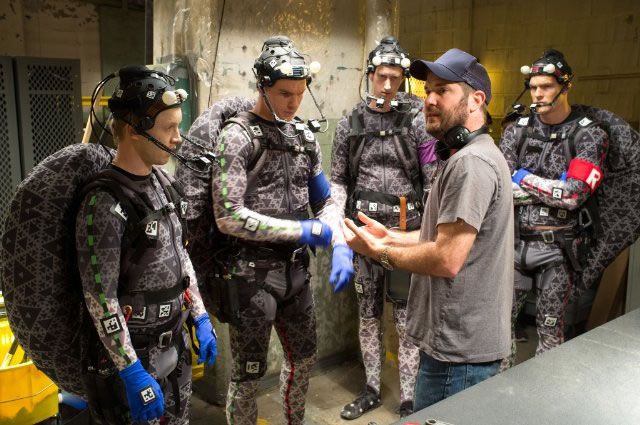 Raphael, is the biggest of all, his arms are as big as Dwayne Johnson's, and he continues to conflict with his brothers for not knowing how to work as a team. Although in the film it has several action scenes and, in this one in particular, shells are used for everything; stop bullets, surf in the snow or be part of a billboard, I think it took more combat scenes, the ones that exist are always very fast, almost do not last and in the middle of the dark, except for the last one where they fight with Destroyer. We know that Turtles are teenagers, apart from some details in their appearances and in the things they say, it seems for a moment that they are older.
Megan Fox returns to work with Michael Bay, after his work on Transformers. This is a movie that fits him perfectly; She does not have to play a different role than what she has done before, she is still the center of attention of many of those who admire her for her particular beauty and great personality.
The best of the film are two scenes: one of them in the snow, in a truck that runs off the cliff and several vehicles in a chase that for many is already familiar, because they are the same scenes that we have seen in the Michael Bay films, full of slow motion cameras, shots, falls and a lot of tension. The other scene is where we see the four turtles in an elevator waiting to reach the top floor, ready to go into action and suddenly Miguel Angel begins to play a rap that is chanted and instrumented by his brothers.
https://www.youtube.com/watch?v=FL4c_dPUYx4
Several questions remain in the air: the role of the destroyer, the actor who plays him, Tohoru Masamune, is Japanese, but it was not known until the film was released. It was thought that Destroyer was going to be played by William Fichtner, a subject that worried and annoyed the fans, because again Hollywood was going to change a character of Asian origin, for a very Western one. Another rumor says that the studios did not want to say anything for fear that their box office in Hong Kong (which is quite large) would be affected. What we do believe is that more movies are coming and we know that both Megan Fox and the four actors who play the turtles: Alan Ritchson, Noel Fisher, Pete Ploszek y Jeremy Howard They already have a contract for three more films.
Datasheet
Director: Jonathan Liebesman
Genre: science fiction, adaptation
Duration: 101 minutes
Guión: Josh Appelbaum, John Fusco, Evan Daugherty, Matt Holloway, André Nemec
Reparto: Megan Fox, Alan Ritchson, Jeremy Howard, William Fichtner, Tony Shalhoub, Nel Fisher, Pete Ploszek, Will Arnett, Danny Woodburn
Música: Brian Tyler
Cinematography: Lula Carvalho
Country: United States
Year 2014
Recent releases

Next releases

---
Many Thanks To The following Website For This Valuable Content.
Ninja Turtles Review (2014)%