In recent years, animated series have been taking a completely different path from what the public was accustomed to and Central Park It is the perfect expression of that paradigm shift. An acid musical in the best Broadway style with the most famous park in the world as a stage, and a series of complex characters but with the daily routine necessary for the viewer to be able to identify themselves very easily. It was an instant hit. Josh Gad is just one of the men behind that achievement.
Mostly known for voicing Olaf, the snowman from the Disney Pictures blockbuster, Frozen, Josh Gad has been making his name in the Hollywood industry by dint of successes and good reviews. While in 2013 he starred alongside Ashton Kutcker Jobs, the biopic of the creator of Apple, in 2017 he put himself in the shoes of LeFou in the live-action version of Beauty and the Beast starring Emma Watson and Dan Stevens. On television, apart from giving voice to the Central Park, Birdie, is part of the cast of the acclaimed HBO space sitcom, Avenue 5, starring Hugh Laurie (Dr. House).
However, Gad has not been in his comfort zone and, in 2020, he decided to bet on an animated musical comedy with the creator of Bob's Burger, Loren Bouchard and producer Nora Smith and, after a successful first season, has just released its second part on Apple TV +.
– While creating a series is a great challenge, more with a story as acclaimed and well received as happened with the first season of Central Park, developing a musical of almost five hours seems something impossible to achieve. What were the main fears you faced in this second part?
– When we decided to make a musical I told my co-creators that every song had to fit perfectly And it must feel as eternal as the story we were telling. Be it "Weirdos Makes Great Superheroes" (one of the biggest hits of the first season) or any other. In the second season it was more difficult because we felt that we were not going to be able to improve ourselves. Yet somehow, in the midst of a massive pandemic and working from home, I can assure you that we made it. The songs are incredibly exceptional. I go to sleep every night singing one of them to my daughters or, actually, to myself, because they keep asking me to listen to them over and over again.
– To this must be added the context of the pandemic which, although it affected the entire industry in general, the fact that Central Park has to involve musicians, singers, performers, and composers, in addition to the scriptwriters themselves, must have been Quite complicated.
– I would say that doing an animated show, all from home, was one of those challenges that I could never have imagined. But doing an animated musical from home is literally crazy and it's exactly what we did. We had cast members singing with the mic inside pillows which then had to be mixed to create a sound that was at the level of the quality of the show. Honestly, I was laughing and thinking it was complete insane, but it miraculously worked. I don't think anyone would have expected such a great result given the enormous challenge we had to face from the quarantine.
– Unlike several musicals in which an attempt is made to respect a musical line to give a certain harmony to the work, Central Park is characterized by the variety of rhythms it displays. What is the process and criteria that you follow when composing the music?
– What we do is take the script where our writers mark the moments that they consider that musically it would be good to add a song. We followed that guide and I, together with the musical team, began to think about who would be the right person to make that particular song and who can do what the song really needs to have. The first season was a struggle trying to understand what we were doing, but now there is more security in us because we already knew what we were looking for. Added to that, we always try to challenge ourselves with style so we introduce elements of country, for example. In this second season we are looking to add Latin music and I proposed some K-pop songs to the team. We are always exploring new terrain.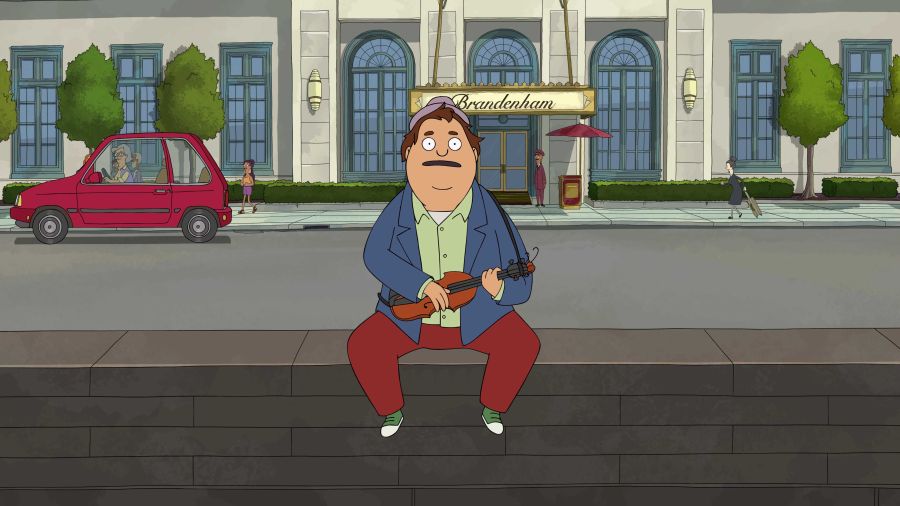 – Although the strip is a fun musical, you raise a very sensitive issue which is the privatization of public spaces. Are you afraid that will happen with Central Park?
– There is a general fear of this type of thing that we usually take for granted and Central Park is one of them. In recent years, places that belong to the public space are being privatized and it is to be concerned. There are people who are willing to take everyone's places and use them as an opportunity to make a quick buck. I think that fear, although it seems crazy when we talk about a place like Central Park, is real and is happening in other places that were universally recognized as public spaces.
– The series has a wide range of characters, all unique in themselves and with great characteristics that surely several people will be able to identify according to their own experiences. In that sense, is there a character that has managed to stand out from the rest for you?
– I definitely find myself laughing every time Stanley Tucci (Bitsy) and Daveed Diggs (Helen) are on screen. Those characters make me die laughing. But the one I'm very proud of is Molly, brilliantly played by Emmy Raver-Lampman. be played by an actress with the same characteristics). I feel like that character comes off the screen in a bright and beautiful way. Outside of that, there is not a character that does not make me excited, because each one reaches his mark perfectly, perhaps with the exception of Birdie (played by himself), because I always consider that I can do better, but I am very proud of what that we have achieved and the brilliant cast that we have formed in this company.
-Taking opposition with Birdie. In what way do you feel that you can identify with the characters in the story?
– I identify with each of these characters in different ways. The fact that Birdie is a very confident storyteller I find very funny because, unlike him, a lot of times I feel that I am not very good at my job but I am balancing and doing the best I can and learning from every mistake. When it comes to the other characters on the show, the one I relate to the most is Owen Tillerman, he's a very loving father and he's a person who works as hard as he can, for better or for worse, and that's who I am. I also live for my children and that idea of ​​overcoming your ties and being that father to whom they say "okay, don't worry, thanks for the help" is something I understand. I feel it in my bones. I always see the shame in my daughter's eyes when she is with friends and I am being too affectionate (laughs), so she is a character with whom I feel very identified. But each of them speaks to me in different ways.
– After two seasons of a success born of yourself. What place does the park occupy in your life?
– Central Park is a great equalizer for me. I always felt that way. You can be the richest person in the world or the poorest, but the park is yours And I always loved what that means When I graduated from high school and went to New York, I remember having a life-changing audition. I felt really bad about myself because I just screwed up. I will never forget to go into the park and, for a strange reason, feel "everything is going to be fine". As I was walking it started to snow and it was a very magical moment. I mean truly magical, so much so that it always stayed with me. Today I think it has something that makes it unique. It's a green sea in the middle of a concrete and steel jungle, but I only felt that feeling there and I love that. My relationship with the park today is stronger than ever.
Many Thanks To The following Website For This Valuable Content.
Josh Gad, the voice of Olaf in Frozen spoke about the premiere of the second season of Central Park