CAPTAIN MARVEL
Original title: Captain Marvel
Year: 2019
Duration: 125 minutes
Country: USA
Address: Anna Boden, Ryan Fleck
Script: Anna Boden, Ryan Fleck, Geneva Robertson-Dworet
Song: Pinar Soil
Photography: Ben Davis
Distribution: Brie Larson, Jude Law, Samuel L. Jackson, Ben Mendelsohn, Gemma Chan,Lee Pace, Mckenna Grace, Clark Gregg, Djimon Hounsou, Kenneth Mitchell,Annette Bening, Lashana Lynch, Rune Temte, Damon O'Daniel, Algenis Perez Soto,Colin Ford, Robert Kazinsky, Chuku Modu, Matthew Maher, Stephen A. Chang,Pete Ploszek, Mark Daugherty, Vik Sahay, London Fuller, Stan Lee, Diana Toshiko,Matthew Bellows, Richard Zeringue, Barry Curtis, Nelson Franklin, Patrick Brennan,Patrick Gallagher, Connor Ryan, Duane Henry, Ana Ayora and Stanley Wong
Producer: Marvel Studios
Gender: Fantasy / Action / Adventure / Sci-Fi
The story follows Carol Danvers as she becomes one of the most powerful heroes in the universe, when Earth finds herself caught in the middle of a galactic war between two alien races (FilmAffinity)
Marvel has been slow to make a movie starring a woman. Exactly 19 movies have passed until 'Captain Marvel' has managed to break the monopoly of movies starring male superheroes within the Marvel Cinematic Universe. Just like I did two years ago 'Wonder Woman', 'Captain Marvel' It comes to break down barriers in a masculinized world where it does not hurt to change airs and characters, they are the answer.
As it happened with 'Wonder Woman', the breath of fresh air that this film supposes is above all. It is enjoyed and its best weapon is that it surprises because it goes beyond the usual conventions of this type of film, although not much either, it is not going to be that the viewer is scared. Just the fact of introducing a different protagonist renews the franchise, and encourages the viewer to a Phase Four of the Universe that really promises a greater richness in terms of characters.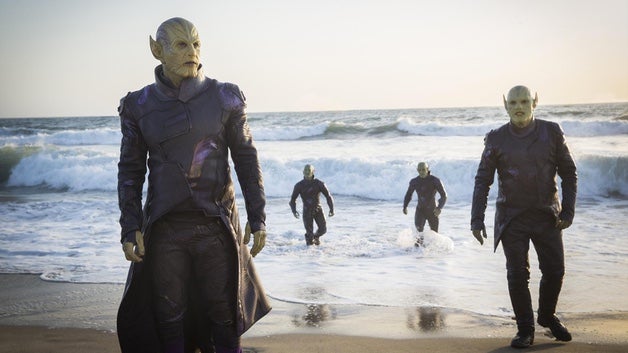 'Captain Marvel' it starts at full throttle. The first act is frantic, unstoppable, with continuous action. From Marvel they want to tell us that Carol Danvers is not weak and the best thing to make it clear is that she releases bullets left and right. It is the weakest part of the film, although it soon passes to the central arc, the one that I have been able to enjoy the most. In this central part, the cards are finally put on the table and we explore the characters better. This part is essential, because otherwise confusion would take over the viewer. 'Captain Marvel' He is not a character known to the general public, so if they do not introduce us to the characters we will hardly be able to locate ourselves.
But let's pull towards the problems dragged by the movie starring Brie Larson, Samuel L. Jackson and Jude Law. The first problem is that, despite being a step forward, something is missing. It is as if it wants to establish itself as the definitive Marvel vindictive film, and yes, it has a lot of political message, but it falls one notch below 'Black Panther'. You can see that Marvel has stepped on the brakes a bit, although the meat they have put on the grill works well, but the final feeling is of being hungry, I don't know if I explain myself.
'Captain Marvel' it still has highlights that make it really enjoyable. Everything that happens to the cat is hilarious, the audience in the room had a great time every time it appeared on the screen. All the speech of Carol Danvers, her friend and her daughter is to put in schools and break stereotypes once and for all. A film, which despite falling short, is necessary.
The best: The cat and the speech handled by the three main female characters.
Worst: He could have given so much more of himself.

Many Thanks To The following Website For This Valuable Content.
'Captain Marvel': step forward, but something is missing